About Me
In case you wondered who I am, read on!

Some personal information seems to have found its way onto this hypertext document to appease any interest in who I am, what I do, and how I came to be.
Personal Facts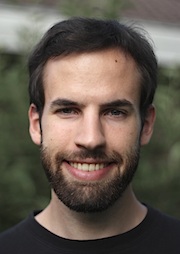 I was born in 1986, and "Mads Engel Hauberg" was the name I was given by my parents. I was born in Aalborg in Denmark but I now live in Aarhus. I have a BSc. in nanotechnology from Aalborg University and a BMed from Aarhus University. Currently, I study medicine at Aarhus University as well as taking a PhD degree.
My spare time interests range rather broadly. I like listening to music and to play on my guitar. I played in a small rock band in high school, but now I mostly play classical music. I'm also interested in photography, as may be seen from the photography section.
I also enjoy some more geeky things like the life sciences, math, physics and programming. I created my website back in 2003 and it has developed progressively when I have had enthusiasm to update it and make software for it.
Travelling is also a significant part of my life. I've been to many countries within Europe as well as travelled to China and USA. I like to both experience the culture of the countries I travel to as well as exploring the natural scenery. In particular, I've grown fond of mountain trekking.
Favorites
Bands
Pink Floyd
Radiohead
Godspeed You! Black Emperor
Dream Theater
Beirut
Sparklehorse
Boards of Canada
Books
Movies
10 things I want to do in my life
Visit Machu Picchu
Dive at Great Barrier Reef
Write a novel
Learn to juggle with three balls
Climb Kilimanjaro
Get an article published in a peer-reviewed magazine
Complete this list...
Informal Curriculum Vitae
I spend most of my time with my studies but I am always interested if an extraordinarily good/interesting job opportunity arises. Feel free to contact me.
Technical knowledge
Widget development
Web development with xHTML, JavaScript, and PHP
Scientific research in nanotechnology and biotechnology
Image editing and graphics development
Photography
Previous Job Experience
Aarhus University: My current job where I teach 2nd semester students histology as a student teacher. (2010-2013)
Aalborg University: I taught 2nd semester students thermodynamics as a student teacher. (2008)
Nomeco: I packaged medical drugs for the pharmacies. This considered in handling their orders and packaging it. (2007-2008)
Nordjyske Medier: I proof-read phonebooks and validated the data. This was, to say the least, rather boring. (2007)
Newspaper deliverer: Not the most rewarding job, but at leas the wages were good (1999-2004)