Day 10
I slept completely alone in my spot in the middle of the desert under the skies, and when I woke it was completely and utterly silent. Not a single animal sound. That was s very special experience. Started hiking at dawn, but it quickly turned out to be a hot day. In anticipation of getting to Paradise Valley Café and also because of bringing slightly too little food, I postponed lunch. When I finally got to the café, their food was a godsend! Had a burger with fries, an IPA, and three scoops of chocolate ice cream. I was all smiles when I walked back to the trail. It was definitely worth the detour.
When I got walking on the trail again, I had planned to camp nearby but not being satisfied with the camp sites I ended up walking a lot longer than intended, and one point promised myself that the next spot, which was on a detour to a water source, would be the one. However I started seeing cow poop on the trail and right before the water source I found two cows blocking my way. Bugger! The cows didn't go anywhere, but I ended up walking past them very slowly, which they didn't mind, so at least I got water. Not wanting to sleep next to them, I had to make my way back to the trail and a bit further. I was rather tired, but recalling the night shifts at the hospital, made me realize that I probably had many more resources to push forward. That had somehow prepared me mentally for the trail. Summa summarum, I ended up doing approximately 25 miles today. That burger, though.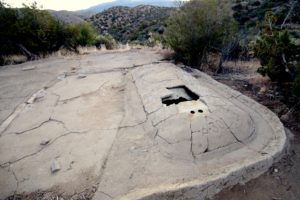 Deteriorating cistern used for an unknown original purpose. What a great receptacle for "potable" drinking/rain water.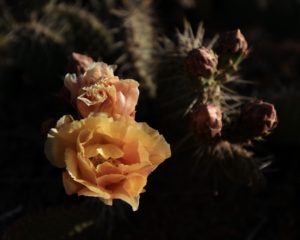 Spring cactus flowers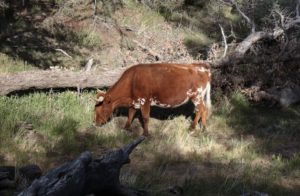 A dangerous animal